Triplex
Triplex is a simple yet addictive strategy game for all ages.
The rules are lovingly simple, inspired by the popular domino game with a twist. To win, you will have to be the first to get rid of all your triangle tiles and create special shapes on the board. Sounds simple? The challenge is that you can only put a tile next to another with a matching side.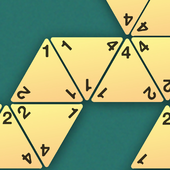 Inside the Game
Entertaining, simple and engaging: enjoy finding the right spot for your triangles. Learn to play smart, by reducing your opponent's options and using your wildcard tiles at the right moment.
You can play Triplex against your phone or tablet.